You're relocating your business to beautiful, sunny California. After checking out the TenantBase Orange County Office Market Guides, you have a general feel for the commercial real estate marketplace, but what's happening in Orange County as a whole? Let us break down the CRE scene for you.

The startup ecosystem in Orange County is expanding and infiltrating commercial real estate. The real estate market has been steadily growing since the recession, and it's now thriving because of the tech boom. As more businesses are taking root in Orange County, the demand for practical yet creative space has heavily increased. Developers are designing buildings that cater to the needs of smaller, innovative companies in the area with petite units.


STYLE:
Modern businesses are focused on being internally communicative, which makes open spaces extremely popular. Traditional offices still contain suites, but materials like glass are being incorporated into design for transparency. New developments are implementing these trends while older buildings are renovating by knocking down unnecessary walls and replacing run down materials with a durable, fashionable, and industrial replacements. Industrial, flex warehouse have spiked in popularity because of their rustic look and practicality. With modern decorations centering around minimalism, developers are investing in materials that provide strong structure and emanate simplistic beauty.
SIZE:
Custom spaces are still being built for large corporations, but developers are incorporating smaller units in the same buildings due to the high demand. These smaller units benefit from the luxuries of larger buildings while keeping their own company culture. Warehouses are downsizing in square footage as well in order to attract small companies looking for practical space. Businesses are focusing on fully utilizing every aspect of an office due to tight startup budgets in combination with enthusiastic sentiment towards shared space.

LOCATION:
Multiple construction sites can be seen driving down the 405 Interstate on your way to work for a reason. Location has always been the number one priority in real estate, and the current market is now looking at more visible areas. Instead of locating a building away from the hustle and bustle and in a more elite area of town, developers are choosing sites next to the freeway for easier accessibility.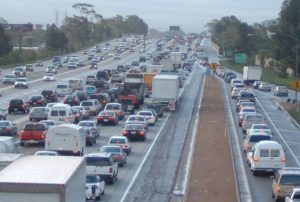 OC 405: State of California
Have more questions about the Orange County office marketplace? Get in touch with our Tenant Advisors -- local experts that are here to help you find the perfect space!