Mike Paleo and I got a chance to sit down and talk about his experience working with TenantBase thus far. Paleo joined TenantBase in June of 2017 with his extensive background in project management, commercial construction and tenant representation as a Senior Advisor for the Orange County, CA team. Here's some highlights from our conversation:
Q: Tell me a little more about your professional background.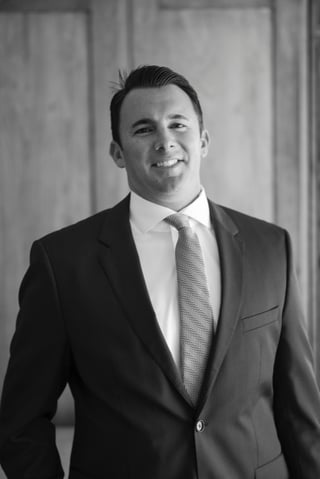 A: After college I worked in tenant improvement construction for about two and a half years until the recession hit. When the economy took a hit so did the construction industry. As I was looking at where to transition next I saw my friend who was in tenant representation survived well and saw an opportunity to get into a different side of real estate as a broker. Since that time I've spent the last 8 years in tenant representation brokerage with 2 different groups.
Q: What attracted you to TenantBase?
A: I've always been interested in Commercial Real Estate Technology space. I came across TenantBase while doing research for other companies and was intrigued to learn more about their system so I reached out to discuss. After meeting with Bennett Washabaugh (CEO) to learn more about the company I saw not only their system as the future of commercial real estate but a chance to grow with the company. I was really impressed with our conversation. I figured either jump on now to the changes in the industry or catch up later. Glad I decided to make the jump early, it's exceeded all my expectations.
Q: How has this been different than previous roles you have worked in?
A: I have been very impressed with the detail and organization of the company, especially on the brokerage side. I've had more leads in the last few months than I did in 18 months working with any other group. The key is to research the leads to find who you can work with and help. Everything is set up with efficiency in mind so you can work with more clients, faster.
Q: What does that look like for you in the day to day?
A: I get 15-20 a leads a week that are actively looking for space. They've really found a way to help the broker become more successful. With all the resources that are provided to the advisors, I now feel like I'm able to fully focus on the service I provide to clients. In addition, I feel like I have the capacity to do more business instead of having to find ways to generate more business.
Overall I love the work. I get to speak with interesting and creative business people on how to help them grow. Through all of that I get to hear their stories and help them find what they need. Every person has different needs and I get to help them along the way, every day is different.
Conclusion
Thanks to Mike Paleo for taking the time to share his experience! We hope this gives an inside look as an advisor at TenantBase. As we grow across new markets we are looking to add talented individuals like Mike Paleo to our team. If that's you please email us at team@tenantbase.com.