Matt Zink is the Design Director and founder of the Nashville office space for Carlton Edwards Architecture + Interiors. We worked with Matt to help his group find their office space just outside of Downtown Nashville. While they are prepping for their move in October, he took some time to discuss his background and office space search process in the Nashville area.
Matt Zink started his architectural career right out of college as an intern with the Carlton Edwards firm which is based in Asheville, North Carolina. Circumstances eventually brought him to Nashville and after 10 years of working with other firms, Zink was entertaining the idea of opening up an office of his own. At the same time, Carlton Edwards was looking to expand their reach in the Southeast region. So, it made sense to combine and pool resources together and start Carlton Edward's location in Nashville - their firm's third office. Carlton Edward's focus is on architecture for high end boutique residential and hospitality projects.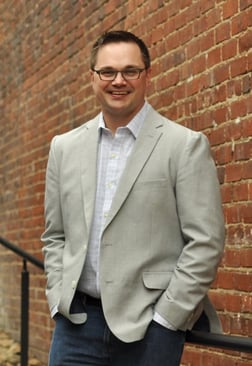 After starting the new branch from his home, Zink eventually found a shared office space in Franklin to set up shop. As the group continued to grow, projects started to become more and more concentrated around the city of Nashville. To avoid the commute and plan for growth he knew it was necessary to find a more permanent location.
Matt started out searching for space on his own "I scoured every possible resource" he says, "and eventually I started getting so busy that I didn't have the time to search on my own anymore." He came upon TenantBase via an online ad and through his advisor Lucius Carroll, was set up to tour a space in his ideal area of town for the new office. Although the building they initially toured worked for their intended use, it did not work out (it had been leased that same week). That tour, however, did lead them to a building in the same area that was the right fit for the creative firm. "Through our Broker network we found a space that was about to be renovated for a new office user." says Carroll. "It was ready for them to design the layout, select their finishes, and place their imprint on the space." The 1,400 square foot suite was already gutted. "It was ideal because we could create the space from scratch and do what we needed to make the space work" said Zink.
"Lucius and Tad (Wood) with Tenantbase understood my needs and wishes for a more accessible and unique office opportunity that allowed me to put my own creative mark on the space - all while staying within budget. The process, from start to finish, could not have been any smoother."
The space is currently in the process of being built out. Besides being in a very accessible location to the city it also will have a more visible street presence. The finished product will have a conference room, a "war room" (for presentations), along with an open work space. Currently in Nashville there is one other employee, but the space will really give them the capacity to grow with the demand to up to five employees comfortably with a continued focus on the boutique residential market.
Favorite area of Nashville? "I stay in the Gulch area" says Zink. Come to learn that he was a large part of the design and implementation of the M Street restaurant group in the Gulch area. Restaurants that he worked on include Kayne Prime, Saint Anejo, Virago,Moto, and Whiskey Kitchen. "The owners had an amazing vision, they made my job very easy."
You can learn more about the projects with Carlton Edwards and Matt Zink here. If you are ready to take the next step in your office search you can reach out to your advisor or start an office space search through your dashboard.