Our advisors work closely with our clients through every aspect of the search and leasing process. This is a chance to get to know the heart behind our advisors - their passion behind real estate, what they see in the market, and how they've come to serve our clients today. We've featured our Advisor Zach Porteous in the Orange County, CA office.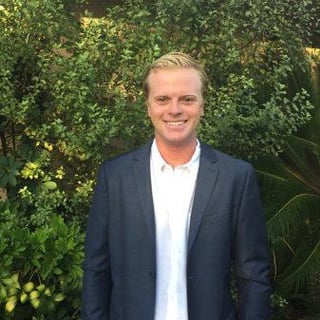 Zach Porteous is originally from the Newport Beach area and went to the University of Colorado Boulder for school where he studied Economics and Business while also pursuing his real estate certification. This is where he saw how much interest he had in the commercial real estate industry. Before coming back to the Orange County area, Zach took some time to travel throughout South East Asia, backpacking through Vietnam, Cambodia, Thailand, and Indonesia. Once he returned he knew he was ready to get involved full time in Commercial Real Estate.
Zach's neighbor in college had recently started on the technology side of TenantBase and connected him to the company. Zach started out doing contract work for the company, learning the different markets, and familiarizing himself with the commercial real estate industry. He then worked his way into the Advisor position for the Orange County market. "I love the work" says Zach "everyday is different and it always keeps me on my toes."
Q: What excites you about the Commercial Real Estate industry right now?
A: Meeting people and learning about their business', then helping them find space that they can run a successful company from. Also the rapidly changing environment that is CRE, with the retail/industrial trade off going on, and the push of technology into the industry.
Q: Where do you see the market going for small to mid-sized businesses in the next 5 years?
A: I think you will see a big increase in the demand for industrial space as people move away from traditional retail and into more e-commerce sales platforms. I've had a few clients in the Amazon sales business, it's really interesting to see the demand turn in that direction. They have more of a need to ship and receive things in an industrial type space.
Q: Favorite concert you've ever been to?
A: AC/DC, or Dead and Co. at Folsom Field
Q: Favorite sporting event you've attended?
A: CU v CSU season opener at Mile High Stadium
Q: Where would we most likely see you on the weekends or off time?
A: I love to eat at Carnitas Las Villa - or you'd see me at the beach.
Q: What inspires you to work with the business community the Orange County area?
A: Seeing and learning about various small business and the people who run them. Finding them the perfect space and helping them get a good deal for it, makes me happy to know I could help their business be successful.
Q: What's your favorite step in the leasing process?
A: I like to get out on tours and meet the clients in person. It's a great opportunity to learn more about their business and how we can help them find the right space and getting the best leasing agreement for them.
Advisors like Zach help guide and advocate for you and your company through touring, leasing, and negotiating the best Orange County office space for you.
Start your search and get connected with an advisor in your market here.