In 1970 Weiser Security was started by Earl A. Weiser in New Orleans, Louisiana. As a retired police Major with the City of New Orleans with a background in security and management, Weiser saw the unfair and underappreciated treatment of security officers and wanted to provide a better place to work and serve in the field. Through their efforts of respect and acknowledgement Weiser spread across the country. "Strong servicing of accounts led to referrals, which led us to new cities and brought us out West." says Jeff Clark, Vice President of Sales. Weiser Security is now the 12th largest Security Company in the US with 26 offices in 14 states.
What separates Weiser from most security companies in their field is the training, scientific selection and management. With only 13% of applicants hired, Weiser is sure to employ only the most dependable and reliable. After hiring they put a high priority on not only taking care of their employees but they ensure they are managed well to fit their client's needs. "Our managers are rewarded by client interaction and feedback. This encourages them to put emphasis on the satisfaction of the site" Clark mentions.
Unlike their national competitors Weiser Security is family owned. Mickey Weiser, CPP the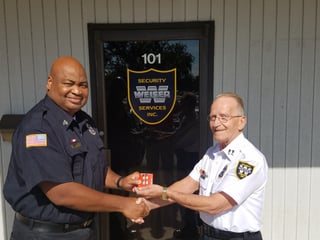 grandson of founder Earl Weiser started working for the company in college. "Mickey Weiser has been on every front of the company so he really knows it well" said Clark. Mickey is the active President and CEO and you can see his kids starting to work at Weiser Security as well.
As the company has grown on the West Coast, the Orange County office specifically crossed paths with TenantBase as they were up on their lease and saw the need to move to a new space. Steve Kang, one of our advisors, got in touch with the local manager to start seeking out the right space. Accessibility was important to the group and after touring several spaces they were able to narrow it down to a 1600 SF space. Due to the functionality and the rate, it was a great fit for a new office.
"A few challenges presented itself through the lease negotiation process related to parking assignment, tenant improvements, and outside signage. Each one was resolved to my client's satisfaction as I was able to communicate our questions and wishes to the landlord representative" says Kang.
Weiser is set up in the new space as of this month and the accessibility for interviewing and working with their personnel is a huge plus to their new space. The functionality of the space is also key and has a great layout for what they need.
To learn more about Weiser Security check out their website. www.weisersecurity.com
If you're out searching for office space and need an advisor to help streamline your search. Start your free account or get in touch with your advisor.