Office Design Trends for 2019
It used to be that the office was — and had to be — a place for everything. Data entry, executive meetings, recordkeeping, and of course, all of your employees. Now, technology has completely changed the way that businesses look at their workplace.

With many workers able to do their jobs remotely, and most business-centric data stored in the cloud, companies have more freedom. Instead of providing a floor of cubicles, they can use office layout ideas that enable collaboration, knowing that workers can do solitary work at home. Rather than finding large spaces to keep everyone under one roof, they can create more relaxed environments for a small, tightly-knit team.

As a result, modern office design trend towards the creative and idiosyncratic, with businesses much more targeted towards the needs of their own particular workforce. We interviewed several experts, from office designers and builders, to workers who had recently gone through an office revamp. Here are some of the most popular office design and layout ideas we found for 2019.
Building Your Team by Building Your Office
Your new office isn't just a place your team moves into. In tangible ways, it becomes part of your team. It affects where you meet and congregate, how you hold meetings and how often you work together — or even see each other.

This can present a great opportunity to shake things up — to build teamwork and give employees a feeling of ownership, while engineering a space that will be perfect for your team's workflow.
In some cases, that means making actual office layout a collaborative process. For the design team at Pensa, an office renovation was a chance to turn their employees' talents on their own workplace. According to Partner and Design Director Mark Prommel, the Brooklyn-based product design firm collaborated to fix some rooms that badly needed an update.

"We had some empty small meeting rooms that had a lot of echo issues when we were on conference calls. We looked around, but weren't really in love with any of the off-the-shelf acoustic tile solutions, so we turned it into a design exercise. We found a material that would work for sound absorption and work as a pin surface for sketches.

Then we created a color palette and generated some patterns that would be pleasant and not too distracting. We settled on a pattern which that's a combination of triangles. We liked the way that it created visual interest with a 3-dimensional feel, and gave the illusion of more depth to the small space."

Creative design and development firm Edge of the Web took an even more imaginative approach to building teamwork through design. According to Creative Director Sam Orchard, Edge of the Web literally built their office around their workflow.

"The main concern with our recent office redesign was how to encourage and promote collaborative communication, whilst giving each team member the ability to really focus on their own work without distraction.

In our industry, it's essential to share and discuss projects as we go along, so that the team is always working towards the same goals and keeping the clients' needs in mind. However, it's also really important for people to be able to work with minimal interruption.

To achieve this, we redesigned our office with a streamlined floor plan which mirrors a typical project's progress: client management team, designers, front end developers and finally, back end developers. This allows easy communication between different teams, without the need for a lot of cross-office discussion.

We also set up a communal relaxation area with seating, a fridge and a pool table, where staff can take a break. This gives people the opportunity to relax when needed, but away from their workspace. This makes for a better break, but also prevents the distraction of other colleagues.

By streamlining the floor plan we've given each area of the office a clear purpose, made it simple for each different department to collaborate with their colleagues, and set apart areas for breaks to minimize disruption."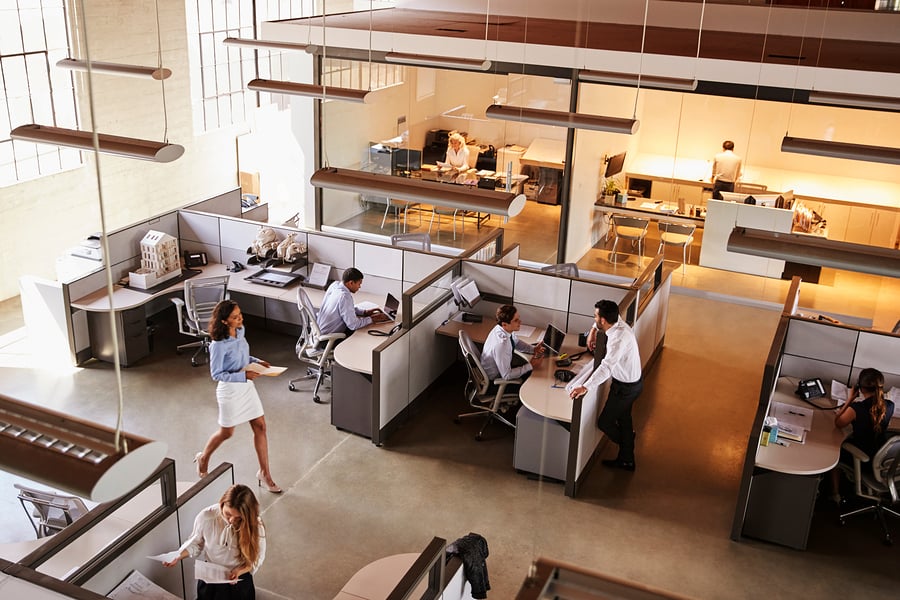 Open Office Plans Continue to be Popular
Encouraging teamwork is a frequent priority in an office layout. By arranging the office around shared workspaces, companies can build a collaborative culture. Although open floor designs aren't right for every company, many still opt for them, according to Fabian Busto, Sales and Office Manager at JB Commercial Interiors and JB Commercial Furniture:

"Bench desking/group working is still proving to be extremely popular. Screens between employees are a thing of the past (excluding management, HR or accounts). This encourages teamwork and good communication between all team members and departments — especially in workplaces where customer service and customer satisfaction is paramount.

When a team works together to achieve a common goal such as customer satisfaction, it improves morale and teamwork, ultimately strengthening the team's bonds and creating drive to achieve said goal."
Many Office Design Trends Balance Common and Private Space
While open and closed office designs both have their advocates, the debate between traditional floors and open spaces has become more nuanced, with companies experimenting with novel ways to shape office culture.

According to Leslie Saul, the head of architectural and interior design firm, Leslie Saul & Associates, many companies are opting for office cubes that combine a degree of privacy with good light, visibility and efficient use of space.

"I see a bit of an emerging trend away from open tables to somewhat (but not completely) conventional cubes. The new cubes have a spine that is a 50" high panel with 14-16" of clear, frosted or textured glass on top. That provides more visual privacy, but still allows light to come through. The dividers to each side are either table mounted screens or skinny laminate panels at the same height as the spine. This gives visual privacy when seated, but not when standing."

Many companies are also working with novel uses of space that are neither traditional office designs nor completely open floor plans, but something in-between. These offices use semi-private spaces, or mixtures of different types of spaces to create an environment that's quiet and private enough for intense focus, but also has social interaction to get ideas flowing and foster a sense of community.

Saul says methods such as hoteling (where workers rotate between different workspaces based on their needs), can be a great alternative to sitting in the same cubicle, day after day.

"I see a continuation of the trend towards providing many small hotels, booths or huddle rooms, with many firms seeking a 4-1 ratio of staff in open office to booths. We are seeing these rooms outfitted with double monitors and a docking station for a laptop, or with two lounge chairs for a quiet conversation or quiet reading.

Many clients also request many places within the office that work for working, such as a library, coffee shop and green/park-like spaces."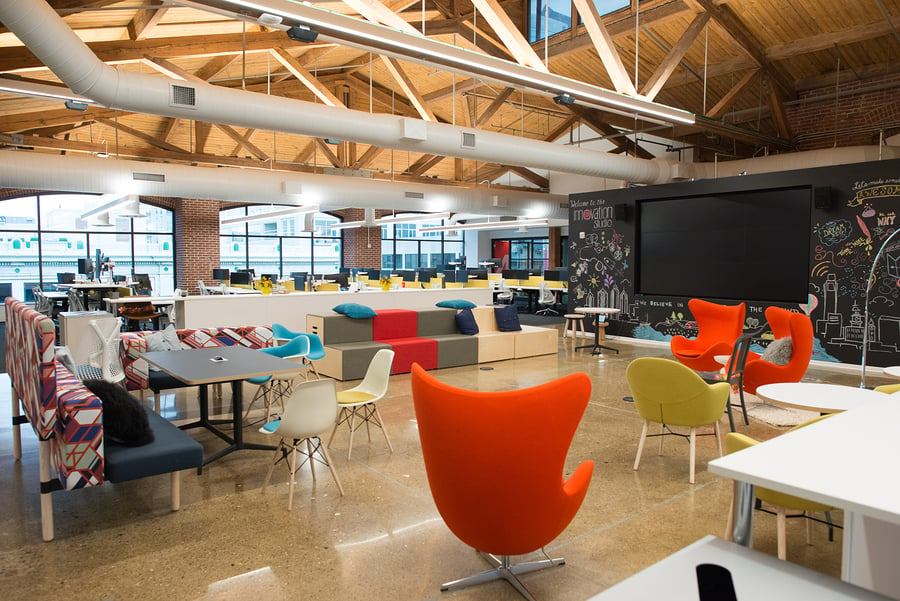 Promoting Worker Health and Comfort
One thing nearly all our sources emphasized was the importance of creating a space that kept workers healthy and comfortable. Caring about worker health isn't just the moral thing to do — it's also good for business. Healthier workers are on average more productive, miss fewer days of work and suffer lower risks of serious illness. Many factors, such as basic office design layout, ergonomic furniture, to scenery can help create a positive environment and a happy, healthy workplace.

As Lanna Ali-Hassan, co-owner of interior design firm, Beyond the Box Interiors points out, the best office designs don't just keep workers comfortable — they make work enjoyable.

"A large portion of our day is spent at work inside an office building, so it is extremely important for the space to be comfortable and inviting. A well-designed office is more than just aesthetics. It is about creating a positive environment that people enjoy.

Ensuring there is ample natural light and access to the outdoors is vital. Encouraging employees to eat their lunch on the patio or taking a break in the garden to catch up with a co-worker will promote productivity and teamwork. It is all about feeling connected to the outdoors and nature while still on the clock.

If possible, the best layout is to have workstations around the perimeter so everyone has a view to the outside. Even better is to have a courtyard in the center of the building so you have access to the outdoors on all sides of the space."

While common areas are vital, Ali-Hassan sees quiet, secluded spaces as every bit as important to worker happiness.

"Creating quiet areas within the office is also invaluable. Incorporate designated offices or areas that are accessible to employees that need to concentrate and stay focused on certain tasks. Knowing there are certain areas allocated to team activities and gathering spaces vs quiet time will definitely go a long way in boosting morale. Not everyone can handle being in the mix of things all day long in an open office environment and it can
negatively impact productivity in a major way."

While the right office layout is important, it's also crucial to let workers make workplaces their own. Ali Hassan recommends allowing workers to decorate workstations with personal items, and provide "pet-friendly offices."

"Allowing pets at work encourages employees to get to know one another on a more personal level, which in turn promotes teamwork."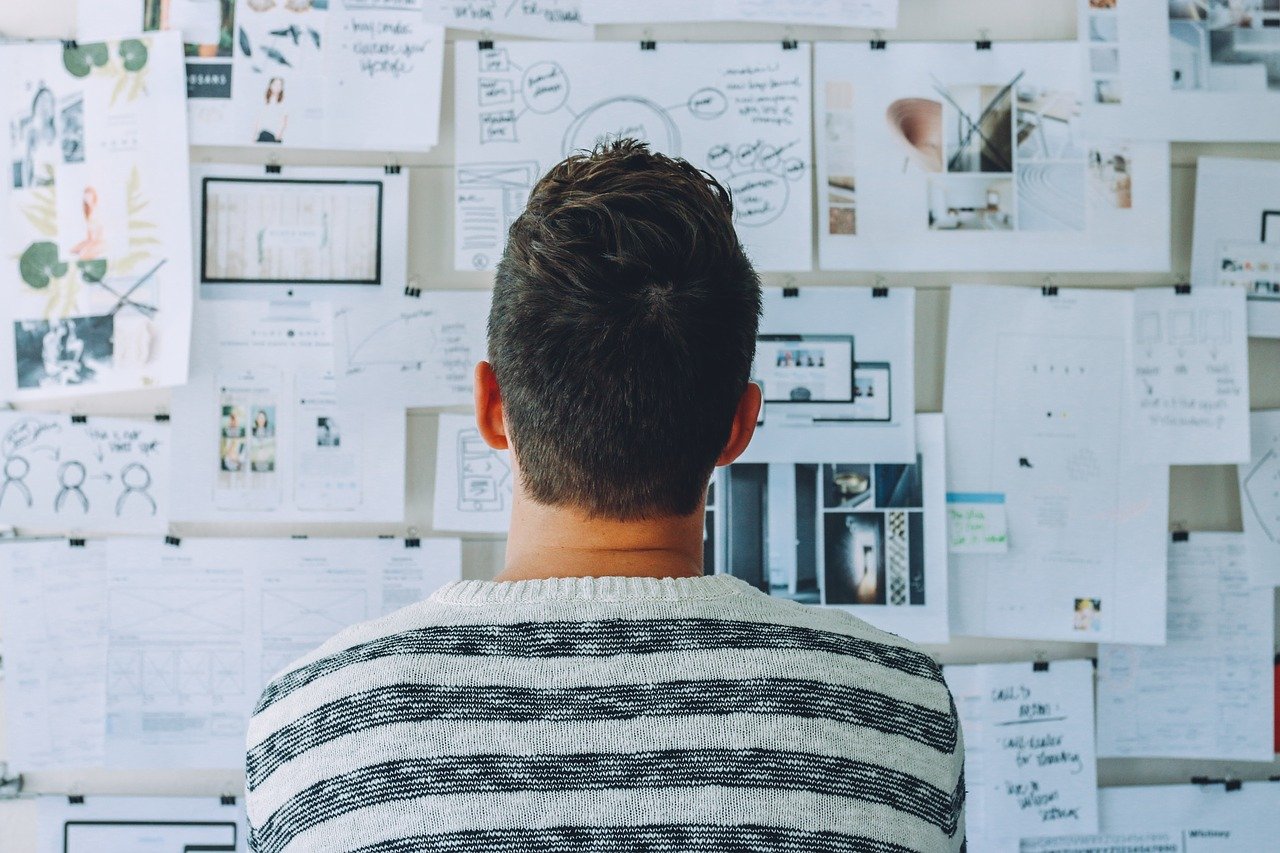 A Colorful 2019 Office Trend: Using Color for Function, Not Branding
Color has long been a major part of branding. Organizations from UPS to Tiffany & Co. have gone so far as to trademark colors to keep other brands from mimicking their aesthetic. But when it comes to 2019 office trends, branding is taking a backseat to function.

While companies are using color in different ways, in 2019, they're less interested in how well their office fits their brand and more interested in what sort of environment it creates.

Color should help "promote productivity as well as relaxation so employees are inspired to do their best," according to Ali-Hassan.

"The color scheme will also depend on the type of office and specific areas within the space. For instance, blue represents communication and efficiency, and it stimulates the mind, making it the perfect choice for conference rooms. Yellow is an emotional color that would work well for creative offices."

Avoid office designs using bland colors, which can dampen enthusiasm and productivity:

"One color I would avoid is white, since it does not promote productivity in any way. I would also avoid gray as an overall color scheme, because it lacks energy and could bring down morale if used heavily. You can definitely use gray mixed with other
colors though, as it is a neutral color that most people seem to love."

Fabian Busto from JB Commercial Interiors has a different perspective on color. In her work. Rather than using colors to evoke different kinds of energy, she sees businesses taking an approach that focuses on making the workplace feel relaxed and comfortable for workers through warm, comfortable colors.

"Regarding finishes and color trends, natural woods such as Dark Oak are moving into the workplace along with soft powder-coated colors for metals, such as off-whites or soft-greys. This aesthetic provides a warm and comfortable look in the workplace which feels homely enough to relax employees, but professional enough to facilitate positive and efficient working. Naturally if employees are relaxed, they work better and feel more able to complete challenging tasks. "

But as Daniel Quindemil points out, your color choice also needs to factor in the particular culture of your workforce. The Construction Manager and Consultant at I AM Builders sees bright colors as one component in achieving the fashionable but relaxed aesthetics that appeal to younger workforces.

"There is a big trend with shared office spaces lately. They are geared toward the more 'techie' or millennial generation — bright colors, modern office furniture, and open layouts. It tends to inspire creativity and collaboration. Furniture is laid out in a manner that is less 'cubicle' or 'office' feel and more open."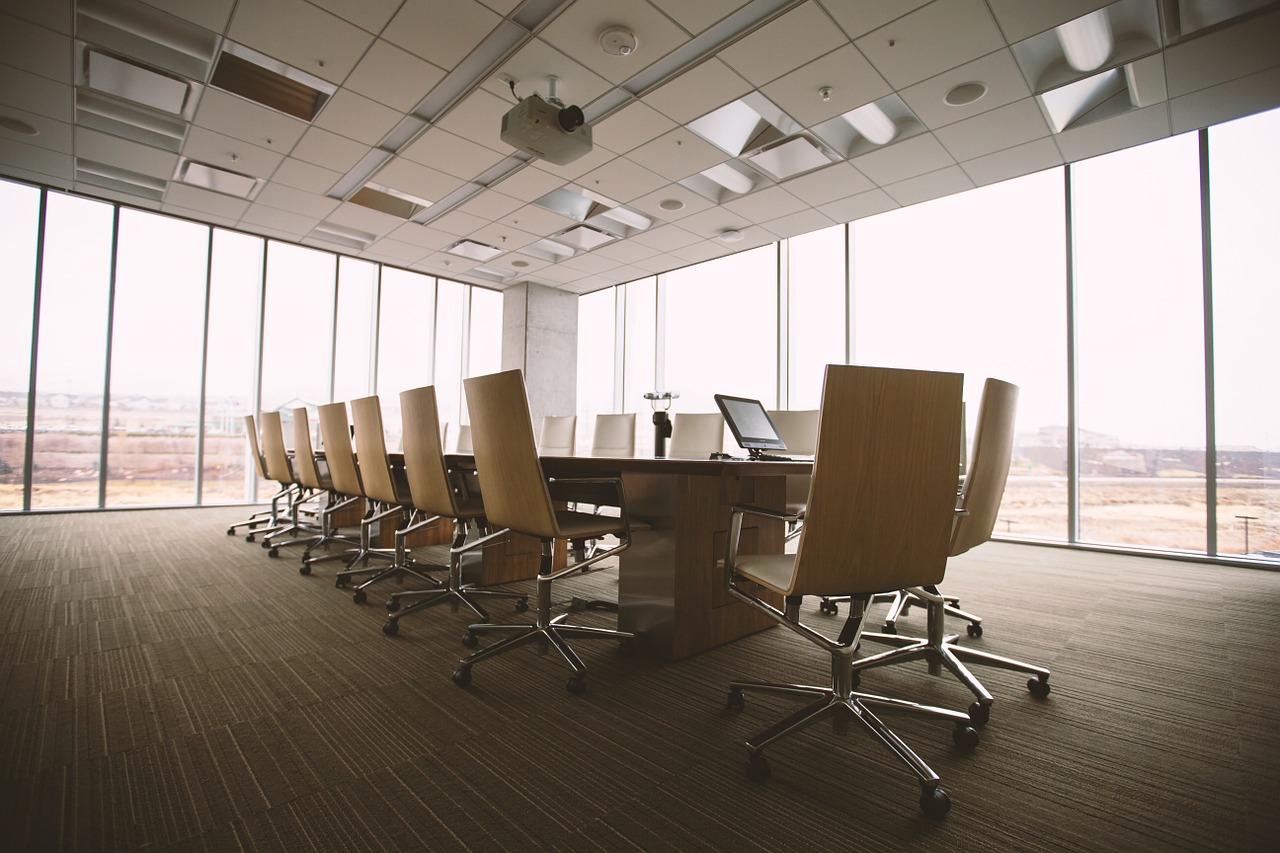 The Best Office Design is the One That Inspires You
There are a lot of places where businesses have to fight to keep up with the competition, but office design isn't one of them. Although there are broad overall office design trends, businesses are rightly more concerned with their own workforce than their competition when it comes to design. New offices range from fairly traditional open floor plans to novel combinations of private and shared space, with colors ranging from warm and soft to bright and bold.

The one thing office design layouts have in common is a focus on creating a comfortable and productive workspace for workers — and that means finding the right location. Whether you opt for a formal, conservative office environment, or a younger, more casual look, TenantBase can help you find a space that inspires the best in your team.