After 16 years of running a successful piano moving company Piano Express owner Bamba Saho was ready to expand his reach internationally. Saho is originally from Germany where he started Piano Express. "I saw an opportunity to start a business around something that people needed and there wasn't much competition at the time". With 180 employees in total, he grew the business to be a valuable service across Europe. Recently Piano Express has made the leap across the pond to serve piano aficionados in the United States as well.
A necessity in this type of business, is finding the right warehouse to store and care for the pianos when they are en route. In order to continue their activity on the West Coast, Saho was in need of a warehouse in Orange County to store pianos. They began their search and after months of looking were starting to get worn down. Nothing was falling into place and the sublease on their last space was coming up.
Jake McClellan, an Advisor at TenantBase, connected with Piano Express at this time. "We needed to find something fast" McClellan said "So I was able to put an alert out to the community and uncover a space that had not come onto the market yet." When Saho saw the warehouse he was all smiles. With moving and storing something as delicate as pianos they needed a climate controlled warehouse with docking capabilities and office space to house their 10 employees in Orange County. The space fit the bill and within two weeks Piano Express was able to close the deal, do some minor work to get set up, and move in. "Industrial space can be tight in this current market, I'm glad we were able to help Saho in his timing." say McClellan.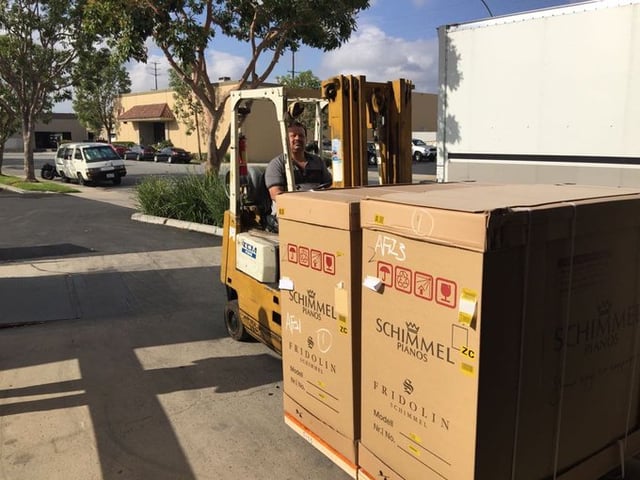 "Our Advisor, Jake, was quick and to the point. I am very fond of him and the work he did for us." said Saho. Piano Express has now been in the new space for one month which has allowed them to keep up with their West Coast operations. Saho can now put his mind at ease on these operations and focus on other areas of the business including building their east coast warehouse in Tennessee.
Working with a dedicated commercial real estate advisor can be valuable when your business is on a tight deadline to find office or warehouse space. Here at TenantBase we pair every user with a one of our local Advisors in Orange County, CA, Nashville, TN, and Dallas, TX. Get in touch today to see how we can help.