Corey Boxx, Director of New Market Development at Drive was kind enough to chat with me this week to discuss everything from opening their first expansion into the Nashville market to the best lunch spot in town.
Drive's growth has been explosive since this marketing and creative agency started in St. Louis in 2012. Soon after they started to search for a new market to open in and the stars seemed to align for Nashville as another home base for the company. Their team saw and loved what Nashville was becoming.
TenantBase started working with Drive shortly after they began their search for an office space in Nashville. As a creative agency, it was important to Drive to find a space that reflected their brand to clients but also functioned well for their team. "Something that improves the client experience and improves that interaction was priority" says Boxx. After a year of having a temporary space in midtown, Drive was quickly ready for something bigger. The downtown renovated CitySpace (within the Rennaisance Hotel) caught their eye as a more permanent home. "The floor to ceiling windows and collaborative workspace is exactly what is conducive to our brand and the clients we serve". The 5500 square feet of space will allow them to double their team size as they continue to serve brands in the Nashville area.
When asked what the difference was once working with TenantBase compared to looking on their own? "I was impressed with the professionalism of TenantBase and the turn around time to get in and see a space. They helped us through every step of the way and referred us to mulitple relationships to work with throughout the process from contractors to designers." said Boxx.
Drive's growth really has been due to their mindset "Failure is only a result of people who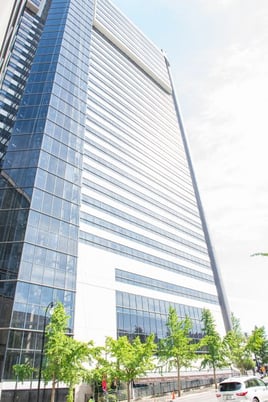 quit". Boxx admits that as they grew into the Nashville market they did little conventional market research, but their team knew that with a little luck and a lot of hard work they could take on the new city and fulfill their anticipated growth. It's proven to work well for them with 60 - 70 local clients in Nashville, they look to double that number in the coming year along with doubling their team.
Drive will move into their Downtown Nashville office space on July 1st. Corey talks about how downtown is his favorite neighborhood since moving to Nashville in 2015. "It's hard to not get swept up in the music and energy when you walk past Broadway, there's nothing like it." The Drive team also loves to hit up the East side for some Mitchell's Deli and their unique sandwiches for lunch.
Here at TenantBase we've loved working with this crew throughout their growth. You can learn more about Drive and their social media services here.