Consumer preferences and expectations are changing and most now have come to expect instant gratification on purchases. When buying a new product or service, consumers will frequently use online reviews as a determining factor in their purchase decision. As this has played out across different industries, commercial real estate has traditionally resisted change, continuing to rely on the tried and true methods for business development. Yet when you review the top responses from the recent DNA of #CRE Survey from theBrokerList and buildout, the top five responses are different forms of interpersonal communication, while the bottom three are digital or online processes. The majority of brokers are using the same methods to contact many of the same prospects in the market. What are you doing to build your digital identity and differentiate yourself?
How do you prospect for new clients?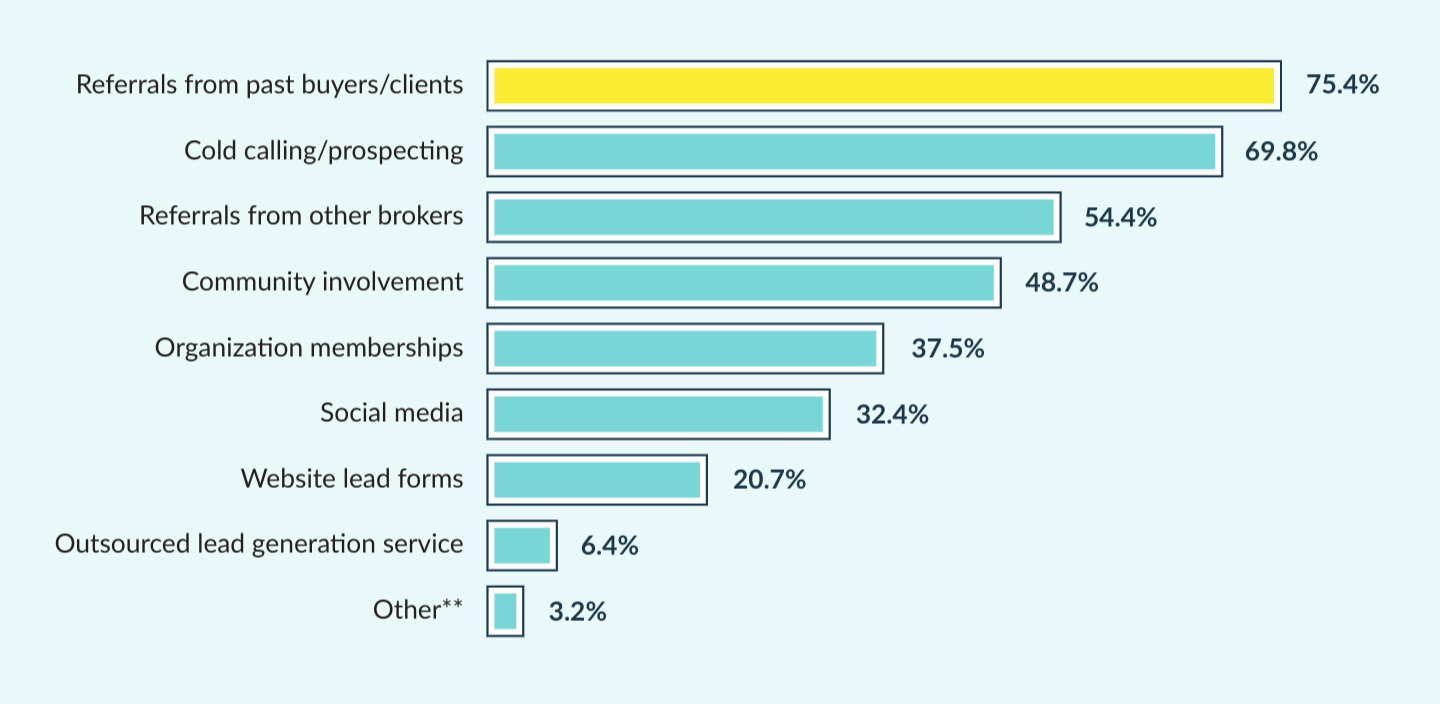 You could make the argument that the types of tenants you represent aren't the ones that will select a broker solely based on their online profile. You know all the right contacts and when there's a requirement, you'll find a way to be in the room. But what happens when:
a new company is considering opening an office or warehouse in your market and doesn't know any local brokers?
a new founder is leading their first search?
an established business that had less than stellar experience in the past has a new need?
Most likely, they start their search online. In just the past seven years, more than 200,000 tenants have created accounts and listed their specific requirements on our online commercial real estate marketplace, TenantBase. Our leadership continues to be amazed with the quality of companies that register each week, and you can rest assured there are indeed valuable businesses actively looking for online commercial real estate solutions in your market. Over 50% of tenants that have signed up this year stated they needed space within the next 60 days. They have deadlines and want to move quickly to secure their new location so they can get back to working on their business.

You have most likely built your personal brand as a broker over many years or even decades. Creating your digital brand will also take time and effort. The longer you wait to start, the longer it will take to start producing. Here are some basic elements you'll need to get started:

What is your current digital profile? (Do you have a resume on your company website, LinkedIn profile, twitter handle, etc)
What channel(s) will you focus on?
Are you going to be a content creator or compiler?
How frequently will you be active on these platforms?
Do you have a way to compile customer reviews?
TenantBase understands these challenges and has built a digital business development platform to identify qualified active tenants and connect them with local broker partners.

One of our first partners was Louisiana-based NAI Latter & Blum who wanted to engage a more modern, digitized approach to business development. According to Karl Landreneau, director of commercial sales and leasing for NAI Latter & Blum, signing on as one of the initial partners was a strategic approach to expand their reach, "TenantBase is a great resource for digital business development, and they go the extra mile in qualifying both the tenant and their requirements. NAI Latter & Blum strives to provide clients with the newest technologies and TenantBase hits the mark with their innovative platform." TenantBase is now partnering with local brokers in over 40 markets in the United States. To learn more about how you can benefit from digital business development, go to www.tenantbase.com/broker.