---

Coworking spaces are a great transition to your first office space out of the home. They allow you the chance to have the amenities of a large office space that stretches even to the community of other professionals. Across LA, coworking spaces have continued to sprout in the city, filled with creatives and entrepreneurs alike. See our list of the top coworking spaces to check out as you begin your search.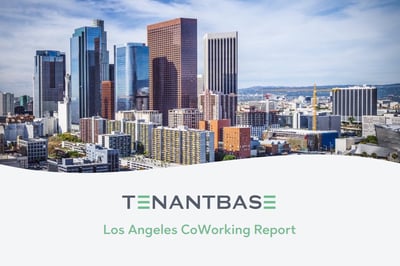 Offering all shapes and sizes of offices for those in the LA area. Blankspaces has meeting spaces, open coworking, and private offices for different sized teams. Their workbar offers a space to foster community and work alongside other like minded professionals. Check out their website for a full list of options.
Contact for pricing
KleverDog is all about the community and that coworking is about not doing it alone. Their space is centered around your ability to get focused work done but also find the community you need, when you need it. Opportunities to collaborate are right around the corner and entrepreneurship is fostered.
Full Time Coworking: $275
Dedicated Desk: $375
Private Office: $1200
From Burbank down to Long Beach WeWork has 16 different locations to meet your coworking needs in LA. WeWork as a national brand provides similar amenities at all of their locations. They're slogan is to "Make Mondays Great" and we are okay with that!
Contact individual locations for pricing
Nestled in Little Tokyo, Downtown LA Opodz is all about serving that community of startups and entrepreneurs. A space that inspires creativity and claims itself as much more than just a space but "a nexus between arts, culture and technology." They hold lots of events to support their growing community.
Open Desk: $299/month
Dedicated Desk: $375/month
Two locations in El Segundo and Marina Del Ray Bizhaus offers a wide range of options to help you focus on growing your business. They community loves to create a fun and creative environment for entrepreneurs and now hosts a community of over 400 members.
Open Desk: $275/mo
Dedicated Desk: $375/mo
Private Offices: Starting at $700/mo
Located at the infamous Sunset Blvd, NeueHouse is in the center of it all. Beautifully designed the open space feels like a high end living room with separate workspaces. It's perfect for a workspace, meeting space, or event space that will impress any client.
Coworking: Starting at $650/month
Dedicated Desk: Starting at $1250/month
Private Offices: Starting at $4000/month
NextSpace offers the energy of downtown creatives but within a short bike ride to the beach. All about creating a community of like minded individuals, NextSpace hosts a range of different professions from digital advertisers and writers to engineers and developers. They have a place for you!
Coworking: $275/month
Dedicated Desk: $325/month
Private Offices: Starting at $850/month
With 4 locations across LA, Cross Campus is all about offering you the best amenities and ideal space to reach your peak performance. Their motto is to help you find worklife balance as well as a community to build meaningful relationships.
Coworking: $375/mo
Dedicated Desk: Starting at $400/mo
Private Offices: Starting at $600/mo
Two locations in Downtown and Hollywood, IgnitedSpaces offers high end amenities in a workspace that combines with a content creations studio. Presenting lots of unique options for creators in all fields. The beautifully designed space with combined hospitality is definitely one to check out.
Coworking: Starting at $350/month
Private Offices: Starting at $1000/month
Several locations in the LA area with impeccable design that highlights their respective areas of the city. What's unique about Industrious is there ability to accomodate large teams in their space. Lots of high end amenities and events are always rotating throughout these spaces.
Contact Individual Location for Pricing
Four locations in the LA area that have options for whatever stage you are in your entrepreneurial journey. The mantras for their community include "relationships first, business second", "a rising tide lifts all boats", and "endless curiosity".
Coworking: $349/mo
Dedicated Desk: $449/mo
Private Offices: Starting at $900/mo
Dubbed as the coworking space for creatives, The Muse Room is an eclectic space offering not only your traditional workspaces but more comfy options on couches and chairs as well.
Coworking: Starting at $250/month
Private Offices: Starting at $550/month
A writer's paradise, The Hatchery Press caters to those in a writing career with not only the means to write at their space with plenty of coffee, workspace, and internet. They also provide writer's workshops and a resource library.
Part Time: $175/month*
Full Time: $350/month*
*Discounts offered for long term commitments
---
Make sure to use the Los Angeles TenantBase platform to find the space thats right for you!