Bill Meissner, a partner for Dunn's River Brands was kind enough to sit down with me to discuss their new venture and their experience in finding office space in Frisco, TX.
Dunn's River Brand is in short an incubator for beverage brands that are looking for the mentorship and the tools to grow. "We give them the support so CEOs and founders can do what they do well." Bill Meissner worked with several well known beverage companies such as SoBe, FUZE Beverages, Talking Rain, and Jones Soda at the executive level before starting this venture. He knew he had reached a point in his career where he could give back to the next generation of beverage companies that were past the proof of concept and ready to grow. So along with his partners started Dunn's River Brands in 2017.
As the company started they worked virtually for some time but knew they would need a home base and office space to grow their company. "Being together in one place is meaningful. We get energy from working in the same space and the convenience of talking to colleagues in the office to get things done quickly" says Bill. The group was very intentional in choosing Frisco, TX as it's headquarters for its location for easy access to the rest of the country, cost of living and attraction of talent in the surrounding area.
When Dunn's River Brands reached the decision to start looking they started online searching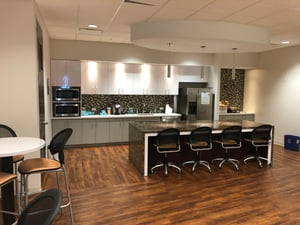 with their list of criteria: shorter term lease that would allow them to grow quickly, a plug and play situation where they could move in and ramp up quickly with no build out. They connected with Shawn Hall a TenantBase Advisor via an online inquiry. "Shawn showed us spaces that were in our budget and met our criteria" says Bill. After touring four different spaces they were able to narrow it down to the one space and Shawn worked quickly to have the lease finalized and ready to move. "Happy to find something move in ready in the market they wanted to be in with the amenities they wanted" said Advisor Shawn.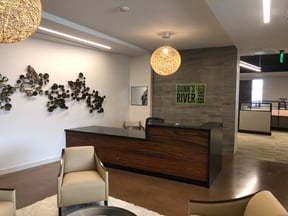 Dunn's River Brands had recently acquired three brands Sweet Leaf Tea, Templewinds, and Temple Turmeric and were ready to go once the lease was approved. Their new office space is 7100 Square Feet with a mostly open workspace in the center surrounded by private offices on the perimeter conference room and a full kitchen within the suite. Most of the space has floor to ceiling windows with an open ceiling, very and popular trend in current spaces. Amenities of the building include a gym, professional lobby, coffee shop and restaurants. Their location in general lends itself as walking distance to some great local eateries and the local professional soccer stadium. Bill is particularly fond of Pizzeria Testa in Frisco Square, an upscale Italian place with a mediterranean vibe.
The space will allow them to support their brands from an operational standpoint to eventually have their own location in the Frisco area. Working with startup companies Bill has seen the upsand downs of the entrepreneurial world. When asking what advice he would give to budding entrepreneurs he says "Do whatever you can to focus on what you're best at, untether yourself to the non value adds that needs a lot of attention. Know that it's going to cost you a lot more than you think - founders and entrepreneurs concerned about giving up too much of their company, need to understand a strong balance or access to needed financial support are going to drastically enhance your chances of success."
To check out more about Dunn's River Brands at their Website or Facebook Page.